The Top 10 Reasons To Use PTG
Working with you, we will form a tailored technology plan, so you can focus on running your business.
Whether you're talking to sales, services, or our admin team, we're focused on solving a business problem—not sticking a bandage on a technology issue or selling you hardware and services you really don't need.
Let us get working for you!
Never Locked Into A Contract
Reason #1
If we don't do great work, you can terminate your contract at any time,
for any reason.
Pay Only For The Value You Receive
Reason #2
Who wants to pay for work that doesn't solve their problem?
Work From Anywhere
Reason #3
You and your team will be able to work securely from any location and across any device.
IT Roadmap to Success
Reason #4
You will always have a 12-month IT roadmap to support you and your team to stay competitive in the marketplace.
Predictable IT Budget
Reason #5
You will always have a 12-month IT budget, so there are no surprises.
Ransomware Protection Guarantee
Reason #6
We work hard to keep the bad stuff from getting through - but just in case - you are protected by our $1mm ransomware warranty.
Supported by Certified IT Professionals
Reason #7
You will always be supported by certified IT professionals;
they aren't learning on your dime.
Fixed Price Services
Reason #8
Your IT services will always be a fixed price, every single month.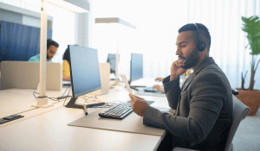 Scorecard for Your Business
Reason #9
You get a quarterly scorecard on how well your systems are secured against ransomware, hackers, and other threats that we are monitoring in the marketplace.
Fast Response
Reason #10
You will be blown away by our fast response times. While we work hard to keep issues from happening, sometimes things will happen– but we will be ready to support your team.
Are you ready to make your business more secure & productive? How about identifying ways you can leverage technology to improve your ROI?